We were just approved for a building permit to finish off our basement. When done, we'll have a rec room, another bathroom and another (rather large) bedroom down there, which will be useful for guests.
Here it is in its current, unfinished state: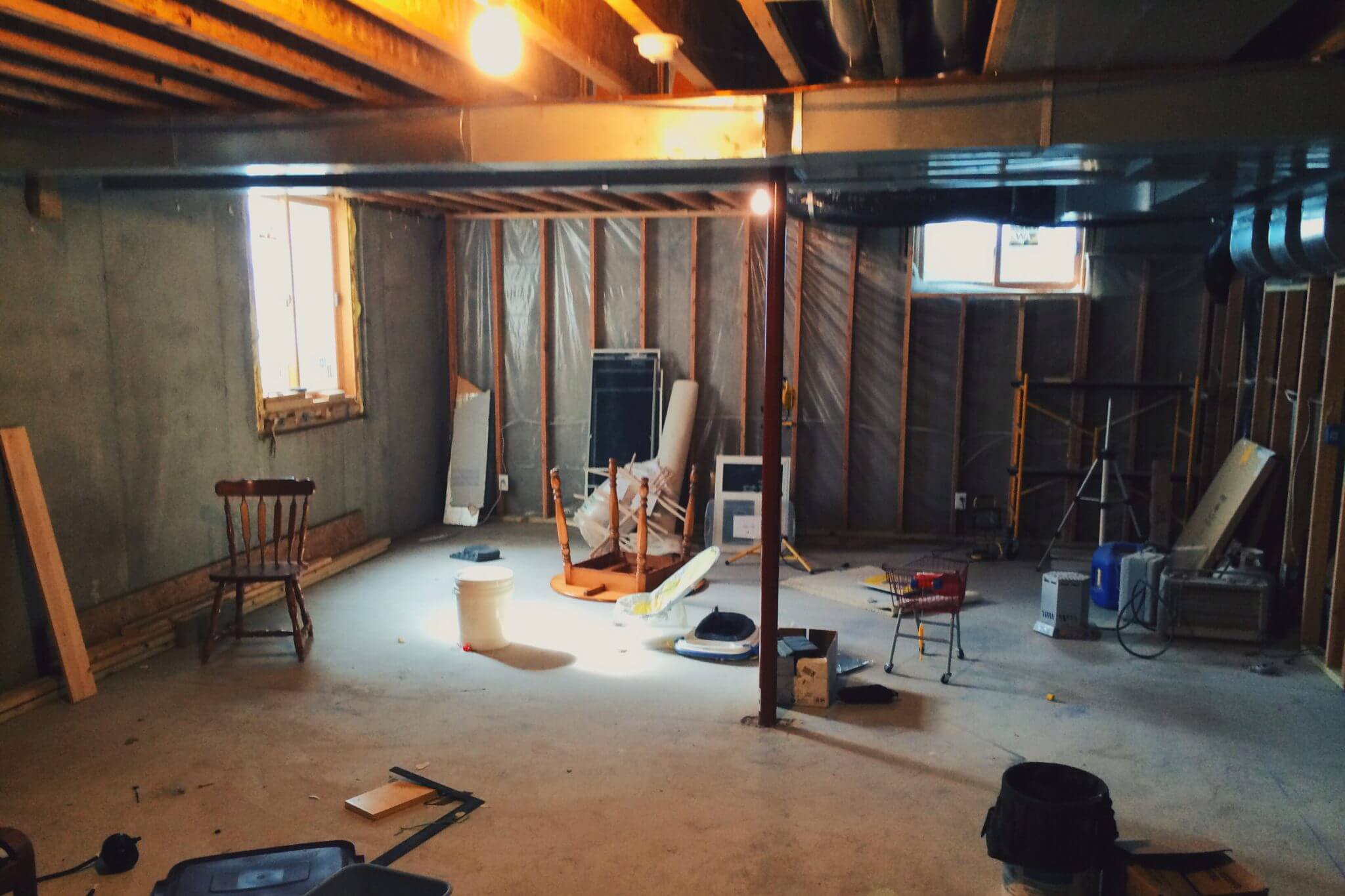 This is some poor photography but it allows you to see a few of the project's distinguishing features.
The ducts for the forced air heating/cooling system had to run underneath the first floor system. This means I'll need to build soffits around them, lowering the ceiling under those ducts. In addition, though, a couple of my walls are located under those ducts, which means I won't be able to fasten the tops of those walls to the joists. I'll have to find some other way to brace those walls so that they don't wobble at the top, which might be tricky because they're also the shortest walls and they don't have much to grab onto to begin with.
You can see that I had put a plastic vapour barrier behind the outside wall framing, but I won't be doing that for the rest of the outside walls, because there's no legal requirement (and really no need) for it. The foundation walls are 8″ poured concrete, with a moisture barrier on the outside. If the foundation walls had been cement block, which is hollow and quite porous, I'd have been required to put plastic between the foundation and the wood walls to protect them from any water that might weep through from the outside.
I'm also not planning to put any insulation on the outside walls. This tends to raise some eyebrows. The foundation walls also have a small amount of insulation (R–5) on the outside, which, combined with the R–40+ insulation in the attic, gives me all the insulation I need (again both legally and practically). Furthermore, if I were to add insulation to the inside, I'd be effectively preventing the house's warmth from penetrating the concrete wall, making the wall itself colder.
We're hoping to have most of this project (except for the bathroom) complete by Christmas time so visiting kin can make use of it. That might be tough with the baby due in a month but we have a shot at it.