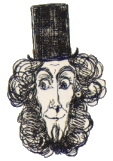 What follows are some short, public promulgations regarding missing persons/items, general notices, personal dolor or opinion, and charitable propaganda.
Not Too Close to Call: "We had a very important, close contest last Nov. 7th. The people have spoken. Pine County, MN, will not be split in two. I hope the radicals will now go home and let our property taxes remain where they are. Good night, and thank God for this clear and wise decision on the part of the people."
— Joseph Upjig

Notice: "Howell Creek Radio will return to the air next week, after a considerable delay owing to Mr. Aldrich's extreme particularity in consenting to renew our license. The station broadcasts rail and mining news from near Brimson, MN in St. Louis County, and can be heard as far south as Pequaywan Lake, nearly six miles south. We hope to extend our range as far as Knife River, Two Harbors and Castle Danger in the future, legalities permitting. Please vote Mr. Aldrich out of office in November, he has had enough of the public funds for his living already."
— Mr. Edwin Nathaniel Dowdley

Pequod Lake Residents: A meeting of the P.L. Assoc. will be held on Sept. 17, to discuss the toll that has been placed on Coolidge Rd., the which is made more deplorable since the road is a gravel one and no plans for paving it are in the offing. Also on the agenda, plans for switching the county over to the Metric system.

Mr. Don Renwhie: "Halloa, old friend. I was just in town and I wonder if you'd look me up, as we are such buddies from way back. We'd like you to take a good long visit with us; we have a nice room all ready. Just give me a jingle at (218) 834-5677 and let us know when we can be expecting you."
— John McNally, Scotland Yard

Silby: "We defy you to win another match, under fair conditions this time. If your manliness consents, you have only to give the word and Prof. Barrows will name the location and officiate. Your continued nonappearance will be understood as admittance of guilt, and the world of honourable amateur sports will be only to happy to carry on without such miscreant behaviour."
— Albert Gravesend, Table Tennis Club of Hennepin

"We would respectfully suggest to the members [of the Minnesota Territory Legislature], to allow their Sergeant-at-Arms mileage for his daily travels about St. Paul in search of 'absent members.' — He should also receive some extra pay for the arduous labour performed by him in pulling the Representatives out of bed every morning."
— Watab Reveille, St. Paul, 1/29/1851

Wanted: "The metro transit commision of Minneapolis in now taking applicants for the new Adopt-a-Bus-Stop program; responsibilities include removing used Cigarettes from the area, pre-populating all vertical surfaces of the shelter with tasteful graffiti, and (in the winter) keeping the shelters well stocked with firewood for heating."
— Mr. C. Andersen, MTC

General: "I, Harry Winston Johnson, have always wanted to see my name in print. Thank you."
— Mr. H. W. Johnson of Fargo, ND
"All articles that coruscate with resplendence are not truly auriferous."
— Traditional (paraphrased)